KADPOL - we have manufactured since 1991
Handmade Christmas Tree Ornaments

KADPOL is a brand of high quality glass Christmas tree ornaments, which have been manufactured from over 20 years.


The receivers of our products are large and small corporations, distributive networks, wholesalers, shops in many countries from Europe, North and South America, Asia and Australia.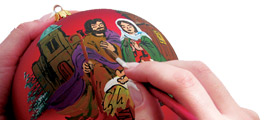 Being the manufacturer, we are able to adapt to each contract, order realizing individually arranged details. We endeavour to match all tastes and demands.
We have in our offer plain and ornamented balls (from 30mm to 150mm in diameter) and ornaments in various forms – we encourage acquainting with a substitute of our offer published on the website.

In order to acquaint you with our abilities we invite also to visit our seat – you have to admit that any of multimedia presentation is not able to present all values of the ornaments.
Our all ornaments are handmade by people who have great manual and artistic skills. They guarantee high quality ornaments in combination with specially and carefully selected raw materials. Thus, it doesn't interfere with manufacturing more than several million pieces per year.

We can cause that your and your client's Christmas will be fabulously colourful and broad in pleasant memories.

mob. +48 604 288 408
Tagi: About Us, Handmade Christmas Tree Ornaments, polish Tree Ornaments, Tree Ornaments